TreeInspection.com arborists are certified by the International Society of Arboriculture (ISA), the unifying organization and certifying body for tree professionals around the world. Our arborists are also trained in the ISA Tree Risk and Assessment Qualification (TRAQ). TreeInspection.com is fully insured. We are happy to provide a Certificate of Insurance to our customers upon request.
We inspect trees for health and risk, and for other reasons detailed below. We do not do tree work. If we suggest pruning or other services during our evaluation of your tree(s), we will recommend a tree service that meets all of our high standards for quality, safety, and integrity.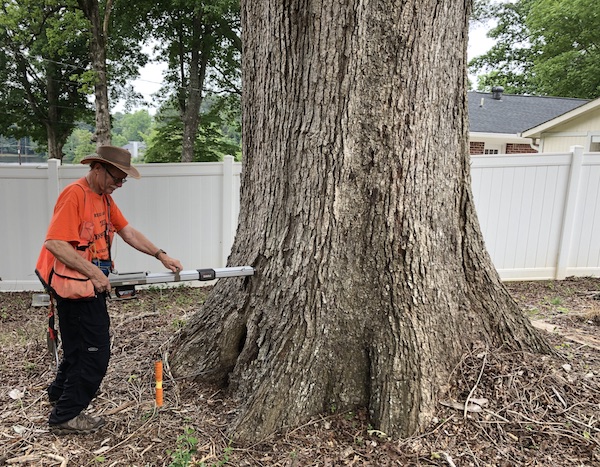 Here's Peter drilling a heritage white oak tree one foot above a cavity. Fortunately, the tree is solid!
Our area of expertise is residential properties. Our customers include:
Homeowners
Condominium and Home Owners Associations
Apartment complex managers
Real estate agents and home buyers or sellers
Other Certified Arborists (for a second opinion or Resistograph® testing).
We consult with homeowners regarding some construction projects. We do not work for builders or developers on residential or commercial lots, and we do not write tree save "prescriptions."
When we schedule your appointment for a tree inspection, we prefer that you are present when our arborist looks at your trees. We like to explain what we are seeing, answer your questions, and possibly teach you a little something about your trees and their care.
OUR CHARGES

Please read this section carefully to avoid any confusion regarding our fees.
Visual Tree Assessment (VTA)
Our services are billed at $150 per hour, which is also our minimum charge for a site visit. This is a time charge, not a "per tree" charge. If your visit takes more than hour, we will prorate the additional time we are onsite. The amount of time it takes to complete a visual tree inspection depends on how many trees we are inspecting and the trees themselves — how big they are, what kind of condition they are in, and what is required to perform a thorough evaluation. At single-family homes, we can usually complete a standard VTA in an hour.
Sometimes we get a call from a homeowner who is concerned about only one or two trees. This inspection may take less than an hour, so don't hesitate to have us look at other trees on your property while we're there! Remember, you are paying by the hour, not "by the tree".
"Climbing" (Aerial) Tree Inspection
Once in a while during an inspection, our arborist discovers that a tree needs to be climbed to find out if a branch, branch-to-trunk connection, or cavity above eye-level on the trunk is decayed or rotten. Before he climbs, he will discuss why he thinks an aerial inspection is necessary and give you an estimate of the cost.
Resistograph Testing
When our arborist uncovers signs of rot or decay in a tree, he may suggest Resistograph® testing to determine the extent of the problem. (Is there too much decay inside the trunk that the tree's stability is compromised?) This is an additional cost, which depends on how much drilling is needed to make an accurate assessment of a tree. We charge $25 per drilling, and we may drill from one to even seven times depending upon the size and condition of the tree. If our arborist has to recommend removal based on his or her findings, a report will be needed in some municipalities to justify a tree removal permit. If the report must include visual graphs from the Resistograph machine (required by the City of Atlanta, for example), it will cost more, because downloading and preparing these graphs is time-consuming.
Homeowner (or buyer) Construction Consultation
Are you planning to replace your driveway or water lines? Putting up a rope swing or treehouse? We can advise you about the best way to get the work done and preserve your trees in the process. We do not write tree protection "prescriptions" required for construction permits in the City of Atlanta.

Reports
TreeInspection.com can provide different types of reports, depending on what's needed, by whom, and for what purpose. We charge for our reports at our hourly rate of $150 per hour. Our typical report charge is $50-$100.
Tree Risk/Health Report. This is our standard report when we do a tree inspection. Many of our customers don't want or need a report; others like to have one for their records. It includes a summary of the tree's risk level, current condition, and our observations, comments, and recommendations for each tree we inspect. If we have performed a Resistograph test on a tree, the results will be detailed. We advise our customers to follow our arborist with a notebook and pen to take notes on his recommendations. This will help you avoid the cost of a report if you don't need one for a home sale or a tree removal permit application.
Appraisal. This is a summary report of the monetary value of all or some of the trees on a property. Occasionally we are called in for an evaluation and appraisal when damage to a tree needs to be assessed. Also, an appraisal done ahead of time can be used to calculate property value or loss to that value if a tree is destroyed by an extreme weather event such as an ice storm or tornado. Click here to view an appraisal report by our Master Arborist Neil Norton.
Inventory. This is a list of all the trees on a property by species, size, and GPS location coordinates. These reports are much more lengthy and detailed than our standard reports.
Travel Time
Our service area is generally central and northern Atlanta and most of DeKalb County, including Decatur, parts of Tucker, Brookhaven, and other areas inside the perimeter. If you are calling for an inspection outside of our service area or that requires lengthy travel from our home base close to Decatur, we will discuss our travel fee with you when you make your appointment. For some areas we may be able to refer callers to a Certified Arborist who is closer to your home.
Expert Witness
Occasionally we are asked to act as an expert witness in a legal action. We usually do not accept these requests. When we do, our charge for these or any other services performed in a legal action is $150 per hour plus travel time and expenses.
PAYMENT
We prefer payment by check (made out to TreeInspection.com) or cash at the time of service unless a report is needed. When we email the report, we will email an invoice with it. We accept credit card payment (via a Paypal button on our website homepage), but if the bill is $250 or more, we add a 3% charge to cover credit card fees. Prompt payment is always appreciated!
DISCLAIMER: TreeInspection.com, LLC and the person(s) performing our evaluations cannot and do not guarantee the safety of inspected tree(s). All trees are subject to environmental conditions that can suddenly change a tree's safety without notice.